The Deep Canyon
Jump to navigation
Jump to search
The Deep Canyon is an Eamon adventure written by Kenn Blincoe and released in August 1984, and is the only one Blincoe is known to have made.
Background
Blincoe's adventure was officially announced in August 1984 issue of the NEUC's newletter when he was 14 years old. Bob Davis reviewed it in the October '84 issue.
Premise
From the adventure's introduction: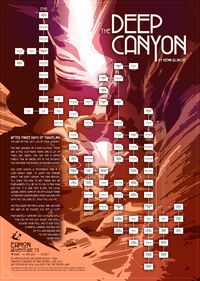 After three days of traveling you are on the last leg of your journey.

You are walking on a high plateau. There are a few scattered trees and a lot of thick, dry grass. You can see a dense forest far up ahead. Off in the distance you can hear the rumble of rushing water.

You come across a mysterious man in a light-weight robe, to whom you enquire about the deep canyon. The man replies, "I'll show you how to get there, but be forewarned. It'll be up to you to find your way out. It is said that Elzod, the local wizard, keeps some of his pets down there to prevent adventurers from walking off with his valuables. Now follow me..."

You followed him for a while, and watched him grin as he pushed you off a cliff.

Fortunately, someone cast a power spell for you on the way down. The spell slowed your fall, but it was still a painful landing. You now get up to look around and to see how badly you're hurt.
Trivia
External links