Death Trap
Jump to navigation
Jump to search
This article is about the adventure by John Nelson. For the game feature, see
death trap
.
Death Trap, sometimes shown as DEATH TRAP, is an Eamon adventure written by John Nelson.
Premise
From the introduction:
You have chosen to take up a bet proposed by one of your enemies. He bet you 20,000 goldpieces that you would not be able to survive a cave known to the mountain people as "Death Trap".

Your bravery exceeds your wisdom. Death Trap is the deadliest cave ever found.

There are dragons, giants, wizards and demons in the cave. You have no chance of beating them by brute force. You must use your wits if you are to survive. Of course, you must also be a supreme warrior.

You start off to the caves. You reach a very high, steep cliff that you must climb.

You start your climb.

Good luck, fool.
Walkthrough
⚠️ A walkthrough is needed for this adventure.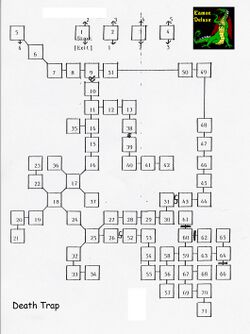 Trivia
External links