Main Page
Jump to navigation
Jump to search
Adventures  |  Community  |  Documents  |  People  |  Software  |  Timeline  |  Universe
Eamon is a long-running interactive role-playing game with at least 279 unique adventures, developed around 1979 for the Apple II and since ported to many other systems. Its many adventures range from fantasy quests, to dungeon crawls, to sci-fi and modern adventures, as well as a few that defy easy categorization. This wiki collects and records information about the history of the game, from its creation by Donald Brown and expansion by John Nelson and Tom Zuchowski, through the growing list of collaborators and adventure authors over many years, to the various system ports and newsletters.
The Eamon Wiki is administered by Huw Williams; please feel free to contact him if you have questions, comments, concerns, or just want to chat about text adventures!
Updates
Items recently added, updated, or expanded:
September

August

July

The form to request an Eamon Wiki account has been disabled for now, due to the high volume of spammy automated requests. Please email huwmanbeing (at) gmail.com if you'd like to become a wiki editor.
May

April

February

November

Playing Eamon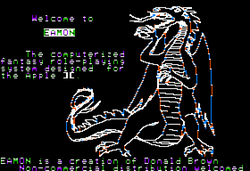 Eamon began on the Apple II computer but has since grown to encompass a variety of platforms. Whether you want to explore the original disks in an emulator, go adventuring in a dedicated app, or play through your browser, you can find a version that fits your style.
Eamon CS is a version of Eamon built in C-Sharp, playable on Windows, Unix, or Android systems and featuring 16 classic and original adventures.
Eamon Remastered is a version of Eamon that runs in your web browser with no emulator required. It currently features 41 adventures with more being ported regularly.
Eamon Deluxe is a port of Eamon to MS-DOS containing over one hundred adventures across 25 sets. It features an upgraded game engine and better graphics, plus a few exclusive adventures.
Disk images of all the classic Eamon adventures are available through the Software Portal.
About the wiki
Eamon Wiki has 1,450 articles, 2,348 files, and is in Phase 4. (More stats.)
Want to add to the wiki? Check out our tips for new editors and then browse these starting points:
Feel free to work on whatever interests you — all contributions are greatly appreciated!