Operation Crab Key
Jump to navigation
Jump to search
Operation Crab Key is an Eamon adventure written by Joe Vercellone.
Premise
The adventure picks up with the adventurer setting off in his or her dingy on the Great Lake Eamon for recreational sailing, when the adventurer's craft is caught in a storm, leaving the player shipwrecked at a "Miami-style" resort. The adventurer must investigate the resort in order to escape and return to the Main Hall.
During play, a number of references to fictional spy James Bond, to whose creator, Ian Fleming, Operation Crab Key is dedicated. Through room and monster descriptions, there is the suggestion of a subplot involving Bond enemy Doctor No operating the resort, hiring evil scientists alongside kitchen staff in pursuit of an ill-defined secret plan.
Full introduction
After leaving the Main Hall you decided to take a pleasure voyage on your dingy. You left your wonderful wife back home, and started sailing down the coast of the Great Lake Eamon.
Suddenly a dense fog overtook your boat and you sailed aimlessly in the vast waters of the lake. Hours later you landed on a beach of an uncharted isle. High above you loud metal birds soar into the distance.
You find that your beautiful armour has been replaced with rough blue jeans and a cotton island shirt. Inside one of your pants pockets you find a circular piece of worthless metal. On one side of it is a picture of a strange man with a beard. Below, to the right, are the numbers 1958.
Crashing onto the island destroyed your boat beyond repair. You decided to search the island for an alternate means of escape. You came upon a mouth of a river and followed it inland. The river flowed hundreds of yards before abruptly ending at the base of a hill. When you reached the top of the hill you spotted a large hut to the north. Hoping someone there would have some means of transportation you ran up to the hut entrance.
Walkthrough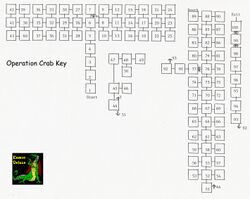 ⚠️ A walkthrough is needed for this adventure.
Reviews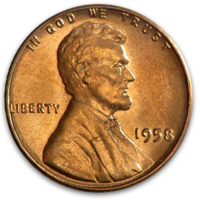 Operation Crab Key, for a time, had the distinction of being the worst-rated Eamon after Bob Davis awarded it a score of 0. Davis took issue with the copy-and-pasted room descriptions ("You are in a charming double bedroom in modern Miami style...") for the majority of rooms in the map. Frank Black eventually contributed his own review, conceding that Crab Key "is by no means a masterpiece," but offering praise for the writing and use of one-way passages to convey a plot; with Black's score of 5, the average rating of Crab Key was sufficient to no longer be the lowest-rated Eamon.
Location
Crab Key is set on the coast of the Great Lake Eamon. The resort in which it is set can be accessed by boat from the Main Hall.
Trivia
Operation Crab Key is the origin of the not infrequent Eamon room description, "Too normal to bother describing."
External links