The Pathetic Hideout of Mr. R.
Jump to navigation
Jump to search
The Pathetic Hideout of Mr. R. is an Eamon adventure written by Nathan Segerlind.
Premise
During the annual Adventurer Day celebration you're accosted by a dwarf who seeks your assistance. He tells you that the immortal tyrant Mr. Roessler is building a fortress in northern Eamon, and it's up to you to destroy it. The dwarf leads you to the north to within sight of the entrance and wishes you good luck.
Walkthrough
⚠️ A walkthrough is needed for this adventure.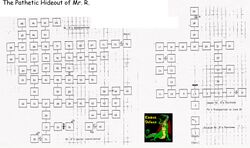 Location
Roessler's outpost is within the Really-Big-And-Scary Forest, reached from the Main Hall by taking the North Road.
External links