Eamon Deluxe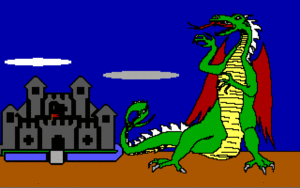 Eamon Deluxe (abbreviated EDX, and sometimes known by the longer title The Marvelous World of Eamon Deluxe) is a cross-platform update of the classic Eamon adventure system created by Frank Black.
Eamon Deluxe includes an updated Main Hall based on the Graphics Main Hall and dozens of adventures which have been converted to the DOS game engine. The Eamon Deluxe package contains a copy of DosBox which allows the game to be played on any modern computer.
The Eamon Deluxe Main Program contains most of the game play enhancements from Main Program version 7.1 as well as a several new features like colored text and screen reader compatibility. Because it runs in DOS instead of on the Apple II, the game engine has more memory available and is better able to handle large adventures with hundreds of rooms and many special effects.
Eamon Deluxe also includes a few newer adventures that never had Apple II versions, such as A Runcible Cargo and Stronghold of Kahr-Dur, as well as the Eamon Deluxe Demo Adventure, a simple adventure meant to demonstrate the capabilities of the unmodified EDX game engine.
Eamon Deluxe 5.0
Eamon Deluxe version 5.0, released in 2013, is the latest iteration of the software. It deactivates most of the adventure sets because their Main Programs haven't been upgraded to the latest Eamon Deluxe features. Only adventure sets 1 and 3 are playable out of the box, but the other adventures are still in the system and playable with a few simple steps:
Locate the folder within EDX containing the adventure you want to play

See Category:Adventure sets to find the set containing your adventure.
The folder name is based on the set number (e.g., for Adventure Set 4, look for EDX/C/EAMONDX/E004)

Locate two files named INTRO.BAS and INTRO4.BAS
Delete INTRO.BAS and rename INTRO4.BAS to INTRO.BAS
Start the program, go on an adventure, and choose the adventure set. The adventures should now be playable.
Be advised that all adventures except sets 1 and 3 have not been upgraded to the latest Eamon Deluxe game engine. Most adventures are still playable, but they may not have some of the game play upgrades introduced in later versions.
Manual
External links