Anatomy of the Body
Jump to navigation
Jump to search
Anatomy of the Body is an Eamon adventure written by Robert Parker.
Premise
The game's introduction consists of two messages, the first to the adventurer describing the mission, the second to the player sharing some notes from Parker (aka "Dirtie Trix") about the adventure itself:
...Welcome into the human body. You bravely "volunteered" to enter a human patient and destroy cancerous growths, tumors, and bacterial growths. To aid you are white blood cells, already in each of us, and a "zap gun".

For your troubles you will be paid 1000 gold pieces. Also, you get to keep the zap gun.

Thank you.

Dr. Sickman Fraud

———

Greetings. I am Dirtie Trix, the creator of this game. I have, in this particular game, kept the design rather simple (human anatomy is not my strong point!). In keeping with my stylish sense of humor, I have placed randomness into this game. Hey! You might encounter everything in the groin or the hand or somewhere.

I hope you enjoy this game, and many more that I have turned out.

Thank you.

Dirtie Trix
Walkthrough
⚠️ A walkthrough is needed for this adventure.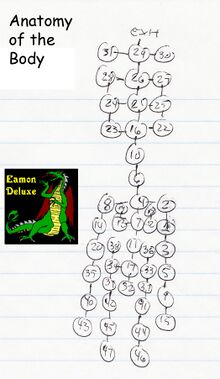 External links