Dirtie Trix's Mad Maze
Jump to navigation
Jump to search
Dirtie Trix's Mad Maze is an Eamon adventure written by Robert Parker.
Premise
The adventure begins with this brief introduction:
Greetings, you fools. I am the games-master, Dirtie Trix. So you thought my other games were easy? Well, it's safe to say you've never gone to my fun house... Up till now you've had it easy...
Walkthrough
⚠️ A walkthrough is needed for this adventure.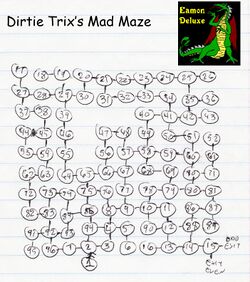 External links