Farmer Brown's Woods
Jump to navigation
Jump to search
Farmer Brown's Woods is an Eamon adventure written by Robert Parker.
Premise
From the brief, slurred introduction:
Oooo-boy!!! You shouldn't had drinkin so muchh. Yer hed sure duz hurt. But thatz not the problim. The problim iz, your in Farmer Brown's woods. And wee all no how much he hates trespassserss...

(Next time, be a designated driver!)
Walkthrough
⚠️ A walkthrough is needed for this adventure.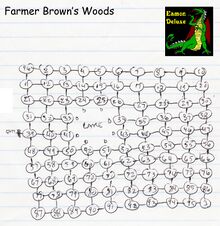 External links