SwordThrust
Jump to navigation
Jump to search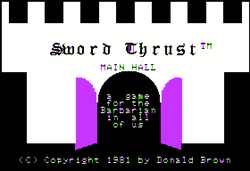 SwordThrust is a role-playing text adventure game for the Apple II computer, created by Donald Brown and published by CE Software in 1981.
Publication
Though originally published by CE Software, SwordThrust was later distributed by Softsmith Software, a label owned and operated by The Software Guild. The game was also distributed by Main Street Publishing as part of its Oldies but Goodies Series, #60101540.
In 1993, CE Software sold SwordThrust, along with the rights to various other Apple software titles, to West Des Moines-based Prairie Group.
Documentation
External links