SwordThrust
Jump to navigation
Jump to search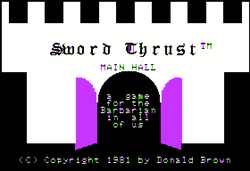 SwordThrust is a role-playing text adventure game for the Apple II computer, created by Donald Brown and published by CE Software in 1981. The game is the commercial successor to Brown's freeware Eamon and retains many features from its predecessor while also making various enhancements and refinements. CE published seven adventures for the system before changing its focus more to productivity software.
Publication
CE Software published SwordThrust in May of 1981 and released the seven adventures of the series over the span of about a year. (A report in Computer Gaming World from Spring 1982 noted that CE planned to release the last two very soon.)
After its original publication run by CE Software, SwordThrust was distributed by Softsmith, a subsidiary of The Software Guild, and later by Main Street Publishing as part of its Oldies but Goodies Series (#60101540).
In 1993, CE Software sold SwordThrust, along with the rights to various other Apple software titles, to West Des Moines-based Prairie Group.
Adventures
Published adventures
Other adventures
Adventure author and NEUC founder John Nelson recalls that he wrote a SwordThrust adventure that CE Software didn't publish: an adaptation of his Eamon adventure The Caves of Mondamen, co-authored with Peter Wityk. He notes that Donald Brown felt the adventure was too similar to Nelson's original Mondamen and that he never got around to reworking it; however, Nelson says he still retains the original source code.
Documentation
External links
Gallery