The Lake
Jump to navigation
Jump to search
The Lake is an Eamon adventure written by Nathan Segerlind.
Premise
From the introduction:
You're in luck!

You were wandering about the Main Hall when you bumped into Crazy Larry, a man who specializes in adventure finding.

He said "Hello. I have something for you! Way to the west, in a dark land called Death, is the Lake. A dark place, with darker monsters and glittering treasure. Deep in the middle of the Lake is Fred's Island, rumored to be a lair of several disgusting orcs... and worse. But ye beware of the terrible dragon, Anglacion! He's as big as the world and as black as midnight. Beware of him, but behold his treasure for no mine mines as much gold in several years as he steals in a day!"

A flying carpet will take you about the Lake; although its maximum altitude is low, it will carry you about the Lake.

A magician then enters the room. You see a blinding flash of light.
Walkthrough
⚠️ A walkthrough is needed for this adventure.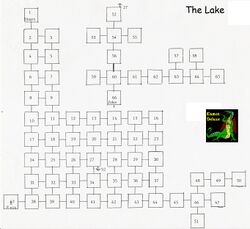 External links