Escape from Mt. Moon
Jump to navigation
Jump to search
Escape from Mt. Moon is an Eamon adventure authored by Logan Blizzard.
Background
For a period of time including 2014-2015, Logan Blizzard served as Laboratory Manger for the Media Archaeology Lab (MAL) at the University of Colorado Boulder. Several collections of Apple II Eamon adventures fell under the purview of Blizzard's curation; as an exercise to better acquaint himself with the Eamon platform, Blizzard put together Escape from Mt. Moon.
The disk including Blizzard's adventure remained at the MAL after Blizzard's departure and eventually was itself entered into the lab's catalog. Ultimately, in 2021 Thomas Ferguson obtained a disk image from the MAL. As its author had written Mt. Moon to better understand the platform--rather than public distribution--a handful of features made it impossible for a player to complete the adventure (most critically, the absence of a method by which the adventurer could return to the Main Hall). With a few superficial changes, Ferguson was able to make the adventure playable and distributed an updated disk image that same year.
Walkthrough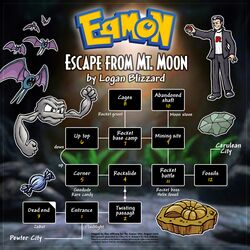 ⚠️ A walkthrough is needed for this adventure.
Files
External links