Sorceror's Spire
Jump to navigation
Jump to search
Sorceror's Spire, also known as The Dark Spire, is an Eamon adventure written by John Nelson.
Premise
From the introduction:
You were awakened from your spot behind the stables by a local boy running aboutand shouting. Getting up to see what the big ruckus was about, you found out that a man had just crawled into town all but dead, and mumbling incoherently. You set out to investigate, finding the man at the doctor's house.

You finally convince the doctor to allow you to see him. Walking into the back room, you find the man severely burned and damaged, but not by any conventional weapon you have ever seen. The doctor says he seems to have been burned by some kind of energy of a mystical origin unlike anything he ever saw before. He says the man muttered two words over and over again before falling into a deep sleep."

The two words he was repeating did not make too much sense. They seemed to be "destrax" and "antimag". The man also was mumbling about the Dark Spire.

The Dark Spire was also called Sorcerors Spire and was supposed to be the best of all the wizard and sorceror's schools in the land. It was run by a very kind old mage by the name of Xandar the Great. A couple of years ago there was a rumor of Xandar dying and that there would be a great power struggle to see who would become the new leader of the school. It was a very important position, because extensive mystical research was done at the school. It was the equivalent of any university, but specialized in magic.

It was rumored that Xandar feared such a power struggle and was trying to perfect an immortality spell. it is not known if he ever succeeded.

Being short on sense and long on guts, you decide to go to the spire to see if you can find out what is going on.
Walkthrough
⚠️ A walkthrough is needed for this adventure.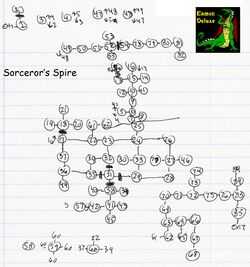 External links