The Mountain Fortress
Jump to navigation
Jump to search
The Mountain Fortress is an Eamon adventure written by Mike Greifenkamp.
Premise
From the introduction:
While sitting at the bar in the Main Hall, and having a Double Dragon Bloom with old Hokas Tokas, you overhear an adventurer telling his tale to the bartender. He tells of a great fortress high atop a lone, foggy, mountain. He says it is heavily guarded, but claims that "Goff" is there.

Ah, now you remember. Goff has a price on his head. He's a torturer and killer. Waiting only long enough to find out where the fort is, you leave the bar and set out to rid the world of the man named Goff.
Walkthrough
⚠️ A walkthrough is needed for this adventure.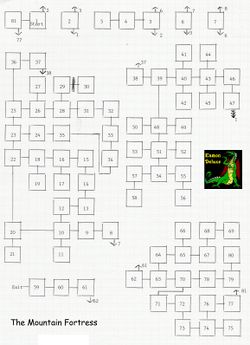 External links