Hokas Tokas
Jump to navigation
Jump to search
Hokas Tokas is the resident wizard of the Guild of Free Adventurers and one of the regulars of the Main Hall.
Function Within the Guild
Hokas' principal task within the guild is to teach adventurers the four basic magic spells: Blast, Heal, Speed, and Power. This he does for a price, and adventurers lacking sufficient gold must save up from their adventures in The Beginners Cave and elsewhere to learn them all. Hokas is said to be fair, and sticks with everyone until they have successfully learnt their magic. In A Runcible Cargo it is stated that adventurers rent rooms from Hokas Tokas, possibly implying that his post of "resident wizard" is a highly influential one in the Guild hierarchy. Thror's Ring suggests a willingness to capitalize on this influence through commercial endorsements, indicating that Hokas had appeared in commercials for the "Ever-Lite" brand of torches.
In addition to his teaching duties, Hokas has appeared in more Eamon adventures than any of the other Main Hall regulars. He often serves as magical protector, either directly employing adventurers to battle possible magical threats or bring him valuable magical items, or even on some occasions leaving the guild himself to set up base in an area where there is a serious magical danger.
Hokas' powers seem extremely great, and he appears to be able to send objects and people over very large distances at will. It is even possible that part of Hokas' job within the guild is to create stable portals to worlds other than Eamon where adventurers fulfill commissions, such as Middle Earth or our own. This power, however, he also frequently uses on those to whom he wishes to teach a lesson.
When not engaged on magical business, Hokas can be found around the hall drinking Double Dragon Blombs, and has also been known to socialize with adventurers, though due to his short temper this can have unexpected results.
Characteristics and depiction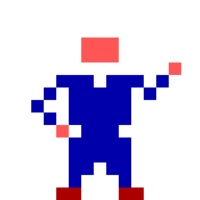 The Eamon Players Manual by Donald Brown describes Hokas as "gruff but fair," a description which the authors of many adventure authors have taken to heart. Hokas is shown as concerned for the well-being of the world of Eamon, yet also possessing a short temper, an often abrupt mode of speech, and a fondness for alcohol. It is also stated in the Eamon Deluxe Manual that he feels distinctly resentful towards the Mystic, another practitioner of magic in the village near the Main Hall who trains adventurers to perfect their spells.
Ever the teacher, Hokas isn't afraid to "teach a lesson" — usually by transporting the offender to a distant and often dangerous part of Eamon, either to learn a specific lesson or simply to get rid of them. In DharmaQuest, Hokas directly states that it is his "sense of honour and duty" that prevents him from killing people with his magic, despite his fiery temper, so it is also possible that transporting people miles away is Hokas' own way of avoiding doing them actual harm. For whatever reason, however, Hokas' bark does seem worse than his bite and he's never held a grudge.
The introduction to DharmaQuest describes Hokas as having pale violet eyes and a snow-white beard; his graphical depiction in Eamon Deluxe is also bearded and white-haired. Further physical characteristics are also provided in Fiends of Eamon, in which a portrait of (a possibly younger) Hokas describes him as "skinny" and "freckle-faced."
Hokas has at least two brothers: Pokas Tokas, who features in The Wizard of the Spheres, Halls of the Adept, and Fiends of Eamon, and the "laid-back" Smokas Tokas who lives in the city of Vulden. Hokas also has a descendant named Threndor who appears in the distant future of Rhadshur Warrior. Such future descendants suggest that Hokas has children, though they have never featured in an adventure; The Hindenburg Ogre mentions that he does not have a daughter, possibly suggesting he has one or more sons.
Hokas has a sanctum in the city of Lumen (Walled City of Darkness).
Appearances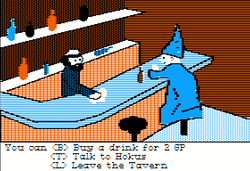 Trivia
Gallery
Main areas
Other areas
Nearby