Samurai Cat
Jump to navigation
Jump to search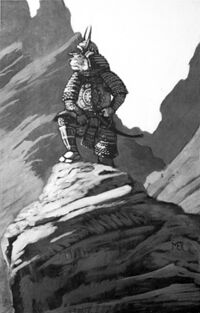 Samurai Cat is a fictional character created by artist and author Mark E. Rogers (1952–2014) whose exploits are the basis for multiple Eamon adventures written by Nathan Segerlind.
Samurai Cat, also known as Miaowara Tomokato, is the most skilled and accomplished warrior in the service of Oda Nobunaga, a Japanese warlord who taught Samurai Cat to perform the three devastating Sword Blows of Death: the Deflecting Blow, the Scarlet-Tapeworm, and the Whirling Outboard Motor Propeller Blow. Wielding his katana and performing his fearsome combat moves, Samurai Cat is nearly invincible and successfully overcomes many of Nobunaga's enemies on the battlefield. However, while Samurai Cat is away on a short vacation to visit his brother, an alliance of villains from across time and space stage a massive assault on Nobunaga's home, Azuchi Castle, and succeed in assassinating the shogun. Samurai Cat swears to avenge his master's death and begins a long quest of vengeance that takes him to many strange and far-flung locations all over Earth and beyond.
Each of Rogers' Samurai Cat stories is a parody of some famous fictional, historical, or mythological event and sees the hero using his fighting prowess to overcome all kinds of fantastical obstacles, from Norse gods to land-traversing battleships. Segerlind's adaptations of these stories are very true to the source material, in each case faithfully reproducing the great majority of the plot, setting, and characters. The adventurers in these stories implicitly assume the role of Samurai Cat.
Samurai Cat adventures
Nathan Segerlind directly adapted two Samurai Cat stories to create the following adventures:
The Bridge of Catzad-Dum based on the short story of the same name. The adventure is a parody of J.R.R. Tolkien's The Fellowship of the Ring and sees the hero venturing into the mountain stronghold of Catzad-Dum to find and kill the villainous Fugu Otoko.
Ragnarok Revisited based on the short story "Against the Gods" which parodies the Norse legend of Ragnarok. Samurai Cat's targets are the Viking brothers Ketil and Halfdan Jormunreksson.
Other adventures by Segerlind that feature themes and characters from the stories:
The Computer Club of Fear, which includes the villain Fugu Otoko from Catzad-Dum and Samurai Cat's nephew Shiro who later reappears in Ragnarok Revisited.
Gallery
External links