Continents and islands
Jump to navigation
Jump to search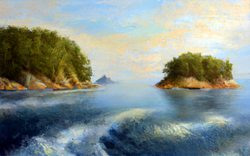 The continents and islands of the world of Eamon are described by various authors in a number of Eamon adventures. Due to the diversity of contributors to the Eamon library, descriptions are not always consistent, and a majority of features appear only in single adventures. This page lists landmasses and islands that have appeared in, or been described in, published sources.
Unless otherwise specified, the features below are all on the world of Eamon, and all distances and directions are relative to the city of Evenhold.
Continents
The world of Eamon has several large continental landmasses but only three authors have described them. Journey Across the Muerte Sea by John MacArthur identifies three continents by name, the Museum of Unnatural History by Rick Volberding describes three others, and Elemental Apocalypse by Sam Ruby adds one more.
Several adventures also take place in Middle-earth, a continent on the world of Arda described in Tolkien's legendarium.
Islands