AdventureDisk
Jump to navigation
Jump to search
Coordinates: 47°35′41″N 122°14′30″W / 47.5946°N 122.2416°W / 47.5946; -122.2416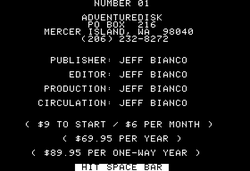 AdventureDisk was a monthly, diskette-based newsletter devoted to adventure and role-playing games for the Apple II computer, and also acted as a distributor of Eamon adventures in the mid-1980s. Each issue of the newsletter diskette included a free Eamon adventure and was accompanied by a hard copy "AdventureBook" with maps and tips for solving games. It was created and operated by Jeff Bianco.
History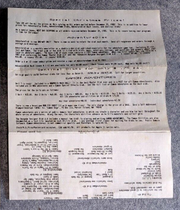 In correspondence with Huw Williams in January 2014, Bianco recalled that he first began collecting adventures in 1981 or 1982 at the age of 13 or 14, and ultimately gathered over 120 adventures which he would copy on his Apple IIe and sell by mail order along with an 8.5x11-inch sheet (later an 8.5x14-inch sheet) listing them all. Bianco charged a couple of dollars apiece, but also sold larger bundles with better values.
Bianco began AdventureDisk in spring 1984 and managed it from his home in Mercer Island, Washington, advertising it in computer magazines to help grow his circulation. The project ran for about 10-15 issues, each of which would include a free Eamon adventure along with other content like maps or tips for solving games. A mid-1985 review by QuestBusters noted that subscriptions were $6/month or $69.95/year. In December 1985, it reported that AdventureDisk had compiled many of the best public domain text adventures for sale on three "AdventureGame" diskettes; the first volume contained Donald Brown's "Star Wars Adventure", Ragnar Fyri's Ula Tor, and several others.
Bianco was assisted by a talented programmer, also in his early teens, who designed the disks' menu interface and helped create some of the content; Bianco never met him in person and in later years could not recall his name.
Issues
Jeff Bianco estimates that he published maybe 10 to 15 issues of AdventureDisk; an ad sheet from late 1985 lists 12. The first issue is available in its entirety at archive.org; incomplete summaries from scattered sources describe some of the subsequent issues.
| Issue | Date | Contents |
| --- | --- | --- |
| Number 01 | July 1984 | The first issue contains two complete games: Eamon adventure #65 The School of Death, and Atom 20, a stand-alone text adventure written by Ray Brander with modifications by Fes Cannady (July 1979). Other contents include a walkthrough of Infocom's Starcross; an announcement of an Eamon map contest; a list of 72 Eamon adventures and utilities; a list of adventure solutions files; a request for reviews; and various newsletter instructions. |
| Number 02 | c. September 1984 | The second issue features Eamon adventure #66 The Dungeons of Xenon and an update on the map contest. Other contents unknown. |
| Number 03 | c. November 1984 | Contents unknown. |
| Number 04 | c. January 1985 | The fourth issue features solutions to the first three installments of the Wizardry game series, plus reviews of two games: Ali Baba and the Forty Thieves by Quality Software, and Questron by Strategic Simulations. |
| Number 05 | c. March 1985 | The fifth issue contains Eamon adventure #71 Operation Crab Key. Other contents: Eamon Master Disk bug fixes; solutions to Zork III, the first half of Hitchhiker's Guide, and a few others; and a list of 81 Eamon diskettes. No reviews in this issue. |
| Number 06 | c. April 1985 | Contents unknown; likely to have featured adventure #72 House on Eamon Ridge. |
| Number 07 | c. May 1985 | Contents unknown; likely to have featured adventure #73 The Deep Canyon. |
| Number 08 | c. June 1985 | Contents unknown; likely to have featured adventure #74 DharmaQuest. |
| Number 09 | c. July 1985 | Contents unknown; likely to have featured adventure #75 Temple of the Guild. |
| Number 10 | c. August 1985 | Contains Eamon adventure #76 The Search for Yourself, plus an AdventureBook for School of Death and The Beginners Cave. Also includes the game Dungeons of the Gods, a map on disk for Legacy of Llylgamyn, and solutions for Dallas Quest, Transylvania, Escape from Rungistan, Kabul Spy, and Sands of Egypt. |
| Number 11 | c. September 1985 | Contains Eamon adventure #77 Temple of the Trolls, the game Operation Sabotage, and an AdventureBook for Birth of the Phoenix. Includes solutions for Cranston Manor, Cyborg, Gelfling Adventure, Mummy's Curse, Mystery Fun House, and Pirate Adventure. |
| Number 12 | c. October 1985 | Contains Eamon adventure #78 The Prince's Tavern and "Eamon Bug Fix Sheet III". Also includes the game Quest 2 and solutions for Alice in Wonderland, Tracer Sanction, Dragonworld, and Secret Agent. |
Other publications
Tip Disks
In addition to the regular newsletter disks, Bianco compiled hints and walkthroughs into collections called "Tip Disks" which he sold for $9.95 apiece, and which featured printer support, font selection, music. A review in the July 1985 issue of QuestBusters describes the three available volumes:
| Number | Contents |
| --- | --- |
| 1 | Infocom games: Zork I, Zork II, Deadline, Zork III, Starcross, Suspended, The Witness, Planetfall, Enchanter, Infidel, Sorcerer, Seastalker, Cutthroats, Hitchhiker's Guide to the Galaxy |
| 2 | Gruds in Space, Mystery House, Mystery Funhouse, Pirate Adventure, Dallas Quest, Ulysses, Mission lmpossible, Pyramid of Doom, Run for It, and Castle Wolfenatein |
| 3 | Mask of the Sun, Wizardry, Wizardry II, Wizardry III, Masquerade, Alpine Encounter, Death in the Caribbean, Dark Crystal, Wizard and Princess, Blade of Blackpoole, The Quest, Softporn, and Voodoo Castle |
AdventureGame Disks
| Number | Contents |
| --- | --- |
| 1 | Star Wars Adventure, Hide, Lost, Dutchman's Gold, Planet of the Robots, Sword & Sorcery, Scary Cave, Treasure, Alien, Ula Tor, Space Gorn, and Smurk |
| 2 | Kidnapped, It's About Time, Quest I, Magic Castle, The Room, King Tut's Tomb, and Enchanted Island |
| 3 | Alien Escapade, The Quest, Necromancer's Lair, Necromancer II, Empire Strikes Back, Baseball Adventure, and Original Adventure |
External links