Eamon Mapper
Jump to navigation
Jump to search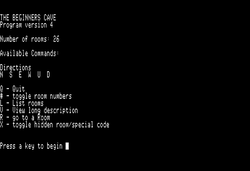 The Eamon Mapper, also known as Eamon Walk-Through, is a utility program created by Margaret Anderson designed to make it easier to map the rooms and connections in an Eamon adventure. The program allows the user to walk freely through an adventure's rooms without the interruption of monsters, treasure, or effects, and lists the exits at each location. It also shows each room's description and lets the user jump directly to any room.
Anderson created the program for the 2013 KansasFest where it won first place in the Hackfest programming competition.
Controls
| | |
| --- | --- |
| Q | Quit |
| # | Toggle room numbers |
| L | List rooms |
| V | View long descriptions |
| R | Go to a room |
| X | Toggle hidden room/special code |
Movement directions are N, S, E, W, U, and D.
Notes
Anderson wrote an article about the utility entitled "Mapping the Unknown: An Adventure in Eamon", published in the September 2013 issue of Juiced.GS, which describes the origin and operation of the mapping program. She also included the following notes on the program diskette:
This program will let you walk through an Eamon map. You can see the room descriptions and available directions. It will also list the rooms and show which you have visited and let you jump to any room.

It should work with any Eamon that uses standard file formats and fits on one disk. So far I know it doesn't work with

161 - Operation Endgame
166 - Stormbreaker
These use multiple disks


243 - The Dragon of Aldaar
This has non-standard files

Since it hasn't been tested by anyone but me I assume there are bugs. Please let me know where they are, and also let me know if any Eamons crash it.
Files