Universal Check Files
Jump to navigation
Jump to search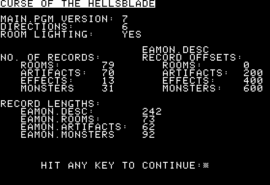 Universal Check Files is a BASIC Eamon utility program written by Tom Zuchowski that's included on the EAG Utilities Disk and is the successor to John Nelson's simpler Version Analysis tool.
The program first reports the version of the selected adventure (4 to 7 for standard Eamons) and the number of movement directions (6 or 10), then summarizes the number, offset, and length of the adventure's room, artifact, effect, and monster records. After this summary the program then scans through all the adventure text files — Desc, Rooms, Room Names, Artifacts, and Monsters — to verify their integrity and reports any errors such as bad record lengths.
Unlike the earlier Version Analysis, Zuchowski's utility can recognize non-standard Eamon variants including 19 modified adventures.
Zuchowski probably created the program around 1988; remarks in the code date the latest version of the program to 23 June 1995.
Source code