Remove Dummy Artifacts
Jump to navigation
Jump to search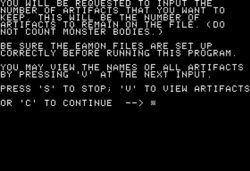 Remove Dummy Artifacts is an Eamon utility program written by John Nelson around 1984, originally included on Nelson's Eamon Utilities I disk. It was later added by Tom Zuchowski (with the addition of line 22) to the EAG Utilities Disk, and also appears on Frank Black's FK Utilities disk.
Zuchowski describes the program in the disk's handbook:
A common way to develop Eamon adventures is to stick a bunch of extra "dummy" artifacts in between the "real" artifacts and the dead bodies. Thus you can use the "dummies" to add more artifacts without having to monkey with the dead bodies. This program can be used to help you get rid of excess dummies once you are through with development.
Source code