Battle Royale
Jump to navigation
Jump to search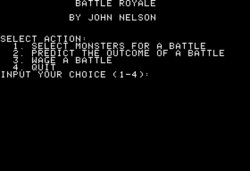 Battle Royale, also known as Monster Battle, is an Eamon utility written by John Nelson that allows users to observe the progress and outcome of computer-controlled battles between selected monsters. The utility, which consists of several BASIC files and a text file, was first distributed by the National Eamon User's Club on its Eamon Utilities III diskette, and later circulated by other distributors including the AAA.
Nelson wrote the original Battle Royale sometime in the early 1980s, and announced an improved version of it in the October 1985 newsletter.
Operation
The utility's MONSTER.MASTER text file contains records for 353 monsters drawn mostly from the first 20 or so Eamon adventures. The user selects two or more of these monsters, either by name or record number, and can then ask the program to predict the outcome. Based on the strengths of the selected combatants, the computer predicts the most likely outcome, e.g.: "I guess I'd have to put my money on [name] to win this one."
Waging the battle pits the monsters against each other using a similar combat routine as in the standard Main Program, and the last monster surviving is declared the winner. The program then asks if the user wants to see a rematch, or wishes to keep the winning monster selected for another fight.
Battle Royale II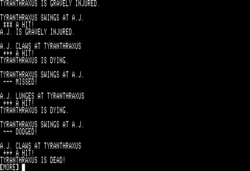 Eamon Deluxe developer Frank Black (credited as "Doctor Sax") coded an updated version of Nelson's utility called Battle Royale II which was released on his FKJunk diskette. Black's version features a more sophisticated combat routine and comes with 35 monsters who fight with their original weapons; the user can also customize the weapons used or stock the arena with extra ones. The latest version is dated 25 February 1994. Originally written for DOS 3.3, Black abandoned it when he moved on to ProDOS.
Reviews
In the "Eamon Lore" column published in the December 1989 newsletter, Tom Zuchowski gives this short review of Nelson's utility: "I never saw any use for this program, since (on the average) the stronger monster will win more battles, but if you like to watch the antics of the insidious Random Number Generator, you might enjoy it."
A brief summary of Black's rewrite is included among descriptions of some of Black's files at EAG Online: "A very fancy re-write of John Nelson's old Monster Battle program... Pretty predictable; the same guy will almost always win. But at least it was very well written..."
Source code
External links