Dodge
Jump to navigation
Jump to search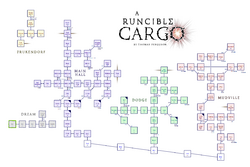 Dodge is town in the Kingdom of Evenhold on the world of Eamon that first appears in The Eamon Railroad by Sam and is later revisited in A Runcible Cargo by Thomas Ferguson. The town is situated on a railroad line connecting Evenhold and Flagstop to the northwest with the town of Mudville to the southeast.
The town has a broad main street that runs north and south, with a railway station and long concrete boarding platform located at the north end. The town's sheriff's office and jail stand on the east side of the street near the station, and south of it stands the Dodge Hotel. The Bank of Dodge occupies a large building on the west side of the street near the south end of town. Thick and "chaotic" forest grows up against the southern edge of Dodge.
University of Eamon archaeologists working at a dig west of town (Archaeological Site #23) discovered artifacts from the lost Ervuolian civilization including the unique and dangerous artifact known as the "runcible cargo".