Atari ST Eamon
Jump to navigation
Jump to search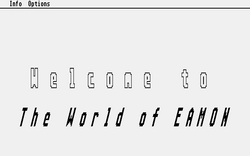 The Atari ST conversion of Eamon is a conversion of the standard, Apple-based Eamon adventure game system to the Atari ST platform, developed from 1986 to 1987 by Michael Detlefsen. The conversion includes a Main Hall, a Dungeon Designer Disk, and several converted adventures; an original adventure, The Star Portal, was planned for the platform but never released for it. Detlefsen abandoned his Eamon platform in 1987 in favor of the Adventure Game Toolkit.
Converted adventures
Detlefsen reported that an Eamon enthusiast named Jeff Chin was working on three further adventure translations for the Atari ST, but the titles and whether they were ever completed is unknown.
Original adventures
In addition to conversions of existing Apple II adventures, at least two original adventures were authored for the Atari ST system: The Sub-Aquan Laboratory and The Crypt Crasher & the Tomb of Horrors, both written by Michael Penner.
Newsletter
One issue of an Atari ST newsletter by Detlefsen was included with the game as a text file.
Gallery
External links