Eamon CS
Jump to navigation
Jump to search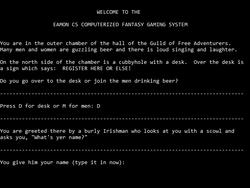 Eamon CS, also known as ECS or by the longer name The Wonderful World of Eamon (C# Branch), is a version of Eamon ported to the C# programming language by developer and adventure author Michael Penner. The project began with a prototype known as Eamon AC released in July 2015 and now obsolete; Eamon CS was first released in early 2017 and continues to be developed and expanded.
Eamon CS is free non-commercial software and runs on Windows, Unix, or Android devices; an iOS version is planned. The project's source code and documentation is managed through GitHub.
History
Architecture
Penner created Eamon CS to be "the definitive version [of Eamon] for the C family of languages" and takes full advantage of C Sharp's class-based and object-oriented nature to produce a system that's logically structured, flexible, extensible, and consistent with modern programming methods and practices. Penner describes the result not just as a port but as a fully-featured toolkit for building adventures within the Eamon ruleset, and includes utilities to help authors construct new adventures.
Penner's Eamon CS documentation gives more details on the system's architecture.
Experience and features
A distinguishing feature of CS is its faithfulness to the classic Eamon system and the adventures it reproduces. Though the C# code was written from scratch, the logic is drawn from the original Applesoft BASIC by Donald Brown (originally extracted by Penner as part of his prototype Eamon AC project) with some features also drawn from Eamon Deluxe by Frank Black such as the village and practice yard. Character creation and management in the Main Hall and the mechanics of adventuring in the system's 10+ stories are true to the original.
Since the system has no formal installer, players normally launch the game using one of the several provided .bat files which opens the game in a console window.
Adventures
As of March 2020, Eamon CS includes ten complete adventures, one test adventure, and two works in progress:
Land of the Mountain King is the currently the newest Eamon adventure and is available only in CS. Test adventures and in-progress adventures are listed as part of the game's Developer's Workbench.
External links