Super Eamon
Jump to navigation
Jump to search

Super Eamon, occasionally identified as Graphics Eamon or Greamon, is a graphical version of Eamon created in 1985 by Paul Van Bloem and published by Little Green Software. Van Bloem wrote a single adventure for the system, The Haunted House.
Contents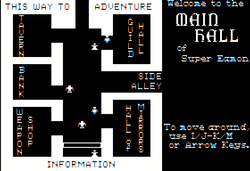 Master
The core of the Super Eamon system is a custom Master that adds graphics and other new features to the Main Hall. It could be used with all Eamon adventures and was marketed as a replacement for the standard Master. It was priced at $20.
The Haunted House
This adventure by Van Bloem is the only one created specifically for the Super Eamon system and features many custom graphical elements. Its price was $15.
Starter Set
The Super Eamon Starter Set is a package that includes the Master and The Haunted House, plus a printed manual titled Ye Guyde to Adventure, described as "a short guide to the Eamon universe". The Starter Set also includes four or five standard, public-domain Eamon adventures. Its price was $37.
Starter Set Adventure Disk #2 includes Assault on the Mole Man by John Nelson on the front and The Deep Canyon by Kenn Blincoe on the back. The contents of Adventure Disk #1 are currently unknown. The set also includes a copy of The Beginners Cave by Donald Brown.
Documentation
Gallery
Published materials
Screenshots
(See all Super Eamon screenshots.)
External links