Eamon Utilities
Jump to navigation
Jump to search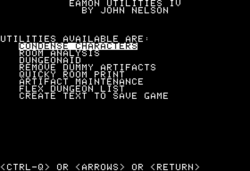 Eamon Utilities is a series of disks containing Eamon utility programs developed or collected mostly by John Nelson and distributed by the National Eamon User's Club.
Background
In his "Utility Lines" column in the August 1985 newsletter, Nelson explains how the series came to be:
The Eamon Utilities were written to provide extended control over the Eamon system. The original Eamon Utility programs were used aid in designing and playing Eamon adventures. After the utilities grew into multiple diskettes, it became apparent that they should be organized and divided into logical groupings.
Nelson explains that the four diskettes relate to four general kinds of activity: playing the game (I), designing adventures (II), "just fooling around" (III), and customizing or modifying (IV). He elaborates:
All programs that concerned the player (or could conceivably concern the player) were placed on Eamon Utilities I. All programs that could concern the designer were placed on Eamon Utilities II. All programs that went along with the monster battle program were put on Eamon Utility III and all programs that were dangerous for the average person to use were placed on Eamon Utility IV. There is some overlap to this system, however.
Nelson revisited the subject in his August 1985 column, explaining that the utility programs were created as a need for them arose: "Most of them were written because either some information was wanted about adventures, or some corrections, enhancements or conversions were wanted. The first utility diskette was put out when, through the natural accumulation, a disk full of them built up. The second was created when the first was filled, etc."
Volumes
Eamon Utilities I
Eamon Utilities II
The second volume contains mostly dungeon design utilities, with programs for browsing, listing, and printing adventures' contents, editing and fixing descriptions, and testing designs.
Eamon Utilities III
This disk is dedicated to Battle Royale (aka Monster Battles), a set of programs that can pit any two monsters against each other in arena combat. On the EAG website Matthew Clark writes, "This seems somewhat useless, since (on the average) the stronger monster will win more battles, but if you like to watch the antics of the insidious Random Number Generator, you might enjoy it."
Eamon Utilities IV
Volume four features an assortment of dungeon design and customization tools, including utilities for listing and printing an adventure's contents, managing artifacts, editing and condensing adventurer records, etc.
Eamon Utilities V
The fifth volume of utilities was never officially released. According to John Nelson, "Utilities V contains programs useful mostly to club personnel only. When it has been mostly filled with programs that are useful to a lot of people, we will release it to the public. [...] It could he another year or two before we release it. In the meantime, it will be removed from our list."
EAG replacement
Shortly after the Eamon Adventurer's Guild formed in 1988, Tom Zuchowski condensed the four NEUC Utilities into a single disk, announcing its release in the December newsletter. Zuchowski writes that the disk "contains the best programs from the old Utilities set, deleting obsolete and duplicate stuff."
External links
Master diskettes

Utility diskettes