Eamon Utilities IV
Jump to navigation
Jump to search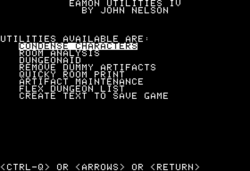 Eamon Utilities IV is the fourth volume in the Eamon Utilities series, a set of disks containing Eamon utility programs collected (and mostly created) by John Nelson and distributed by the National Eamon User's Club in the mid-1980s. Nelson states in the disk documentation that it's "useful for those who want to customize the system".
Several of the programs were later included in the condensed EAG Utilities Disk assembled by Tom Zuchowski and distributed through the Eamon Adventurer's Guild.
Contents
The following are the utilities and related files included on the fourth volume.
External links