Unicorn
Jump to navigation
Jump to search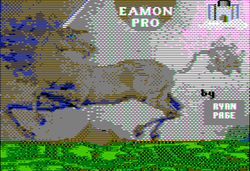 A unicorn is a magical animal that resembles a horse with a single long horn. Unicorns feature in The Last Dragon, Feast of Carroll, and The Manxome Foe, while the mounted head of a unicorn appears on a wall in The Twin Castles and a horn in The Ruins of Belfast.
A rubber unicorn mask with a rainbow-colored mane is available for purchase in The Adventurer's General Store.
Eamon Pro gives adventurers the option of transforming themselves into unicorns at the Tower of Magic.
External links