The CRPG Addict
Jump to navigation
Jump to search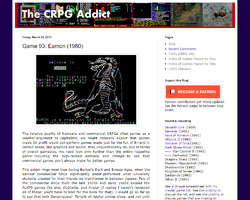 The CRPG Addict is a blog dedicated to computer role-playing games written by a gaming enthusiast from Maine known by the pseudonym "Chester Bolingbroke". The blog details Bolingbroke's experiences playing a wide variety of classic CRPGs, and since its start in February 2010 has featured hundreds of titles. Bolingbroke encourages visitors to post their own comments, experiences, and insights on the games he reviews.
Reviews
Bolingbroke played and reviewed Eamon in March 2013, first walking through the Main Hall and the process of character creation, then taking his character on adventures in The Beginners Cave, The Death Star, and Death Trap.
Later that year Bolingbroke also played and reviewed SwordThrust, and the following month posted a detailed walkthrough.
In February 2016 Bolingbroke played and reviewed the unauthorized commercial Eamon clone The Adventure (aka The Adventure - Only the Fittest Shall Survive).
John Nelson's Knight Quest was reviewed in August 2021.
External links
Websites and other online resources

Eamon sites
Related

Forums