alt.games.eamon
Jump to navigation
Jump to search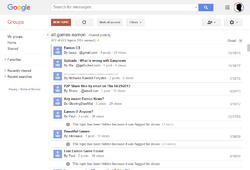 The alt.games.eamon newsgroup is a Usenet forum dedicated to Eamon and related topics.
History
After its first topical post on 8 March 1997 the newsgroup grew slowly and reached its most active period from roughly 2000 to 2005. Frequent early participants included EAG president Tom Zuchowski, webmaster Fredrik Ekman, and adventure author Greg Gioia, soon followed by others including Matthew Clark, Sam Ruby, Matt Vigor, John MacArthur, David Owens, and Phil Schulz.
Topics
As archived by Google, the newsgroup shows a total of 472 topics added since February 1997; a large majority of these are spam, so the roughly 128 on-topic threads are gathered and linked below for easier browsing.
External links
Websites and other online resources

Eamon sites
Related

Forums