Eamon Wiki
Jump to navigation
Jump to search
Coordinates: 40°49′50″N 74°07′29″W / 40.8306°N 74.1246°W / 40.8306; -74.1246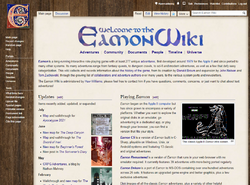 Eamon Wiki (originally The Wonderful Wiki of Eamon) is a user-editable online encyclopedia of information related to the Eamon text adventure series, founded and administered by Huw Williams. It's powered by MediaWiki version 1.35.0, a free software application by the Wikimedia Foundation, and is hosted by DigitalOcean.
History
Eamon Wiki began development in March 2012 under the name "The Wonderful Wiki of Eamon" and opened to public editing on 17 March 2013 at eamononline.com. The wiki operated from a private Linux web server at Williams's residence in West Lafayette, Indiana, and shared space with several other sites. (Williams kept a Get Lamp commemorative coin inside the server's case.) Much of the encyclopedia's structure was built during the first two to three years of operation, including most of the category tree and article stubs.
Beginning around 2015 the wiki was the target of increasingly frequent automated cyber attacks that sought to create large volumes of bogus users and articles; in response, Williams disabled new user account creation and editing in order to prevent further vandalism to the project, and the wiki became dormant.
In 2017 Williams established the eamon.wiki domain and began transferring the wiki's content to a new and more secure installation hosted by New York-based cloud services provider DigitalOcean. The project, renamed "Eamon Wiki", officially reopened to the public in September 2017 and now operates from DigitalOcean's NYC3 data center in Clifton, New Jersey.
Anyone wishing to edit the wiki may request an account, though for security all new account requests must be manually approved.
Contents
As of Wednesday, 19 January 2022 at 20:32 EST, Eamon Wiki has 1,026 articles and is in Phase 4.
Overall the wiki contains 6,905 total pages and 1,858 files. It has 17 users (1 active) and since its re-installation in 2017 has accumulated 30,182 edits.
See also
External links
Websites and other online resources

Eamon sites
Related
Forums