The Interactive Fiction Database
Jump to navigation
Jump to search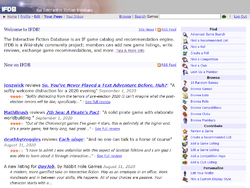 The Interactive Fiction Database (or IFDB) is an online directory of works of interactive fiction operated as part of the official website of TADS, the Text Adventure Development System. The project launched in late 2007 and is owned and maintained by TADS creator Michael J. Roberts.
IFDB has three main functions: to be a comprehensive and collaboratively-maintained catalog of all IF past and present; to give users personalized recommendations for IF they might enjoy; and to make it easier to play works of IF by providing instructions, guides, and other helpful resources. It currently features over 10,000 game listings and 7,000 reviews, and has articles for nearly all the adventures in the Eamon series.
Matthew Clark, operator of the Eamon Adventurers Guild website, linked a majority of IFDB's Eamon articles to their original reviews at the EAG; author Kenneth Pedersen also added ratings for a majority of Eamon adventures. Other Eamonauts who contributed reviews or ratings include Wade Clarke, Keith Dechant, Fredrik Ekman, Derek Jeter, and Arrowhead12.
External links
Websites and other online resources

Eamon sites
Related

Forums