The Eamon Adventurer's Guild WebSite
Jump to navigation
Jump to search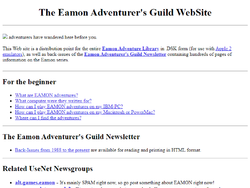 The Eamon Adventurer's Guild WebSite was an Eamon website created and maintained by Matt Vigor while he was a student at Western Illinois University. Tom Zuchowski announced the site's debut in the June 1996 newsletter and in the June 1996 issue of GEnieLamp A2, and the site remained online at least through 1998.
Per the main page, the site consisted of an introduction to Eamon, instructions and resources for playing it on modern computers, back issues of the Eamon Adventurer's Guild Newsletter, and a list of adventures with downloadable DSK files, though it's unclear if all of these sections were completed. The main page also linked to alt.games.eamon and other Usenet newsgroups.
The website was hosted by the Educational Computing Network (ECN), an academic computing service at Governors State University.
External links
Websites and other online resources

Eamon sites
Related

Forums