Eamon merchandise
Jump to navigation
Jump to search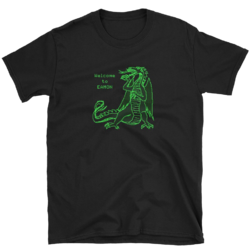 Eamon merchandise is rare given the non-commercial nature of the game series, but known commercial products related to the game are listed below, followed by information on the current market for collectible Eamon-related items.
Products
Software
Though the main Eamon series is non-commercial and freely distributed, some related software projects have been commercial ventures:
CD
The Eamon CD is a compact data disc produced in 2000 by Tom Zuchowski that contains all the Eamon adventures available at the time, plus maps, pictures, all the newsletters, and other miscellaneous items. The CD sold for $3 including shipping.
Notebook
John Nelson announced his project to create "the official Eamon notebook" (a customized three-ring loose-leaf binder) in the October 1984 issue of the Eamon Adventurer's Log:
The notebook idea has struck a lot of members fancy and we would like to proceed with it... The cost of the notebooks to members will be $10 each plus postage and handling. They are 100% vinyl with padded covers and backs, silk-screened with the Eamon Dragon and lettered in Old English script along the spine. They will have pockets on the inside for placing notes and will be a standard size (8 1/2 x 11) 1" thick.
Nelson also later described it as "the perfect place to keep your EAG newsletters!"
Diskette labels
In the early 1990s SoftKey Publishing sold a set of pre-printed Eamon diskette labels, with the diskette names in Old English-style type. The set covered all EAG adventures at the time, plus master disks and dungeon design and utility disks. SoftKey sold the label set for $5. Tom Zuchowski described them in the December 1990 issue of the Eamon Adventurer's Guild Newsletter, noting that "they are very popular among people who have seen SoftKey disks, and after receiving several requests they have decided to make the label set available as a separate item."
Clothing
Assembly Lines, a retro computer t-shirt store operated by Chris Torrence (@CT6502), sells an Eamon dragon t-shirt for $19.95, introduced around the time the store opened in June 2019.
Auctions and resale prices
Pieces of Eamoniana sometimes appear for sale at auction sites like eBay or through other collectible vendors. This section documents Eamon-related items that have appeared for sale on public sites from c. 2018 onward as an aid to anyone interested in determining going rates for Eamon materials and collectibles.
Omitted are listings where Eamon disks are part of a larger lot of software.
External links