Shever Software
Jump to navigation
Jump to search

Shever Software was a small developer and publisher of Apple II software operated by Scott Everts and based in Placentia, California.
History
Scott Everts founded Shever Software as a solo business venture around 1985 and planned his first product to be a Traveller role-playing game character generator, a project he'd been developing for several years first on the Commodore PET and later on the Apple II. He packaged a few dozen copies of the software, advertised it in Space Gamer, and tried selling it at a local convention, but when he was unable to sell any copies he decided to move on to a different project: an improved version of Eamon.
Called Lightning Eamon, the game was compiled to run more quickly and added a number of new features to the Main Hall, including a casino, a training center, and a special weapons shop. In addition to The Beginners Cave included in the Basic Set, Everts converted four other Eamon adventures to the Lightning system and packaged them for individual sale. Everts sold a limited number of copies and ultimately decided to abandon his Shever venture in order to focus more on college.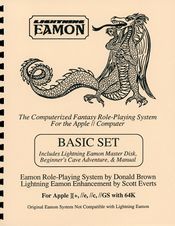 Everts later released a non-commercial version of the Lightning Eamon master known as the Expanded Master that he adapted to run with the standard Eamon series.
Products
External links