Source:4 D.M. residents, 1 Missourian killed in fiery Iowa car crash
Jump to navigation
Jump to search
This page is a verbatim reproduction of original source material and should not be edited except for maintenance.
Description

A newspaper report of the 1984 automobile accident that claimed the lives of Bill Fesselmeyer and four other people, published Sunday, 16 September 1984, on page 1B of The Des Moines Register.

Source

The Des Moines Register, obtained by Huw Williams (User:Huwmanbeing) from archives April 2012.

Date

16 September 1984

Author

Bob Shaw, Des Moines Register reporter and staff writer

License

The use in this wiki of this non-free item is permitted on the grounds of fair use.

Other versions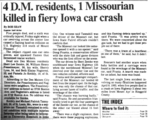 4 D.M. residents, 1 Missourian killed in fiery Iowa car crash
By Bob Shaw
Register Staff Writer
Five people died, and a sixth was critically injured, Friday night when a car swerving across the center line caused a flaming head-on collision on U.S. Highway 218 south of Mount Pleasant.
The impact ripped one car into pieces, and spawned flames that threatened rescue workers.
Dead are Des Moines residents Sheri Lee Zemke, 36, William Henry Fesselmeyer, 36, his wife, Sherry Lynn, 34, and Beth Elaine Nugteren, 33; and Pamela Jo Keithly, 19, of St. Ann, Mo.
According to the Des Moines City Directory, the Fesselmeyers and Nugteren were neighbors. The Fesselmeyers' address is listed as 2739 Boston Ave. and Nugteren's address is listed as 2749 Boston Ave. No address was available for Zemke.
Keithly and Michael Patrick Tannahill, 20, of St. Louis, Mo., were in a separate car. Tannahill remained in critical condition with multiple injuries Saturday after being taken by helicopter to University Hospitals in Iowa City. One witness said Tannahill was the driver of the Missouri car, but Iowa State Patrol officials couldn't confirm that.
"The Missouri car looked like someone opened it was a can opener," said Doug Franta, a conservation officer with the state fish and game division who was the first officer on the scene.
The car driven by Sheri Zemke was southbound near Iowa Highway 125 when the northbound Missouri car swerved over the center line and the two vehicles collided, officers said.
Franta said the passenger compartment of the Missouri car landed 60 feet from the impact spot. On the highway was only the chassis of that car, lying across lanes of traffic, and the wreckage of the other.
"The chassis was burning badly," said Franta. He and paramedics frantically tried to get the four passengers of the Zemke car out, as the chassis of the other car blazed about 15 feet away.
"There was a slight explosion, then there were these popping explosions, and this flaming debris sparked up," said Franta. "It was pretty warm there. We were concerned about the gas tank, but we had to get those people out of there."
"There was a trace of a heartbeat on one of them," he said, but it didn't last.
Rescuers had another scare when baby bottles and a carriage were found in the wreckage of the Missouri car, said Franta. A search was made for an infant, but none was found.
The last single Iowa accident involving so many fatalities happened April 9, 1983, when five people died in a crash on Iowa Highway 2 about two miles from Mount Ayr in Ringgold County.